The Darth Maul Estrogen Brigade - A Darth Maul fan site by a group of women who we can be described as obsessed, devoted, and a little on the odd side, but we can also be described as normal people with a hobby. Here in our humble abode, you'll find pictures, fanfic, sounds, etc., all pertaining to Darth Maul and his less treacherous alter ego Ray Park.
The FeMaul's Guide to Darth Maul - With a shoutout to her Sith Sisters, Maul no Miko presents a site dedicated to the sexy bad guy of the Phantom Menace. Lots of fan fiction, Maulchandise and more. Check it out.
The Darth Maul 3D Website - A site dedicated to the new badass Star Wars villian. Darth Maul 3d contains renderings and animations of a Darth Maul model created by the site's owner. Some great new images!
RayPark.com - A site dedicated to the man who would be Maul. Home of the Ray Park webring!
The Sith Archives - A cool site with original material! Big and growing! All Dark Knights shall memorize the Sith Code! A must visit!
Darth Maul 18 - a guide to Star Wars news, sites and more. Visit the Linking Planet System for a planet-by-planet tour of Star Wars on the web.
Darth Maul's Corner -- A great collection of images and news relating to the evil one himself. How could we not approve?
The Black Jedi - An EXCELLENT site with great graphics and news from the U.K.
MIKE23's DARTH MAUL Site - A collection of Darth Maul links, images, sounds, movies and Star Wars news! Great things are coming - check it out!
The Sith - Everything a Dark Lord of the Sith would want! The TOP TEN SITH QUOTES, original videos, and plenty of info on the Dark Lords... Sidious, Maul and Vader!
Dark Lord of the Sith - Lots of Star Wars multimedia and downloads including pictures, sounds, music, movies, trivia, webrings, survey, humor and an award to win.
The Ray Park Shrine - Did you ever notice that you never see Darth Maul and Ray Park at the same time? Hmmmmm. Check out this tribute to the man beneath the make-up!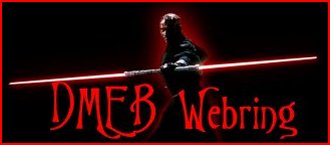 This Darth Maul Estrogen Brigade Webring site owned by Darth Maul Approves.
[ Previous 5 Sites | Previous | Next | Next 5 Sites | Random Site | List Sites ]

The Phantom Menace Banner Exchange